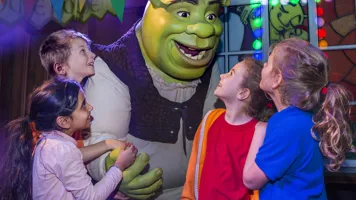 99% of mums who visited Shrek's Adventure! London would recommend it to others
In March 2018, we invited a whole load of Netmums with children aged 3-12 years to visit Shrek's Adventure! London ... and they LOVED it! That's why Shrek's Adventure! London is officially 'Netmums Recommended'!
Reasons we are the perfect family day out!
Easy to get to! We are a 5 minutes walk from Waterloo and Westminster stations. The step-free access is perfect for buggies.
Plenty of lunch and early dinner food options with a range of family friendly restaurants on our doorstep.
All kids will love us, from the little ones as young as 3 years to the not-quite-so-little kids aged 11 years and over! And under 3 years go free!
Your child needs the loo? We have toilets at the beginning and end of the tour. Ask an actor if you need to exit during the show for an emergency loo visit! 
Here's what Netmums loves about Shrek's Adventure!
'All of it!!!'
'The bus journey, the way the story evolved was brilliant,'
'It kept moving so no chance to get bored,'
'I like the fact that you are involved in the whole adventure,'
'It's interactive, it's funny, thoroughly entertaining for kids and adults,'
'I loved the bus ride, loved the special effects with the 3D glasses – and getting wet!'  
'As magical as the films'