Pre-book online to guarantee entry and save
Reschedule for free up to a day pre-arrival
Manage your booking via our booking portal
Pre-book online to guarantee entry and save
Reschedule for free up to a day pre-arrival
Manage your booking via our booking portal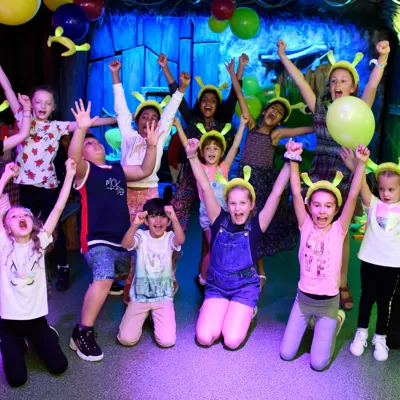 Have an adventure-filled birthday!
Shrek's Adventure! London is the ultimate kid's birthday party venue from only £29.99 per child.
First you'll go on an immersive adventure and meet all your favourite Shrek characters like Donkey, Fiona and the big green Ogre himself!
After you return from Far Far Away, you'll experience a completely unique birthday party in Shrek's Swamp with tonnes of Shrek-themed party games.
Our Birthday Party Package includes:
Entry and full tour at Shrek's Adventure! London
Exclusive hire of a Shrek's Swamp themed private birthday room
Dedicated Birthday host to look after you and your group
Shrek party games to keep everyone entertained
Two adults go for free!
Birthday Party E-invites
Optional food add-on
We're currently unable to accommodate food within the attraction but have teamed up with the Great British Fish and Chips shop in County Hall who can reserve your party a table ready for when you're finished with your Shrek-tacular adventure. You will be contacted after your booking to confirm if you'd like this option. Please note, this is not included in your booking price and all orders and payments will be handled by the shop themselves, not by Shrek's Adventure! London.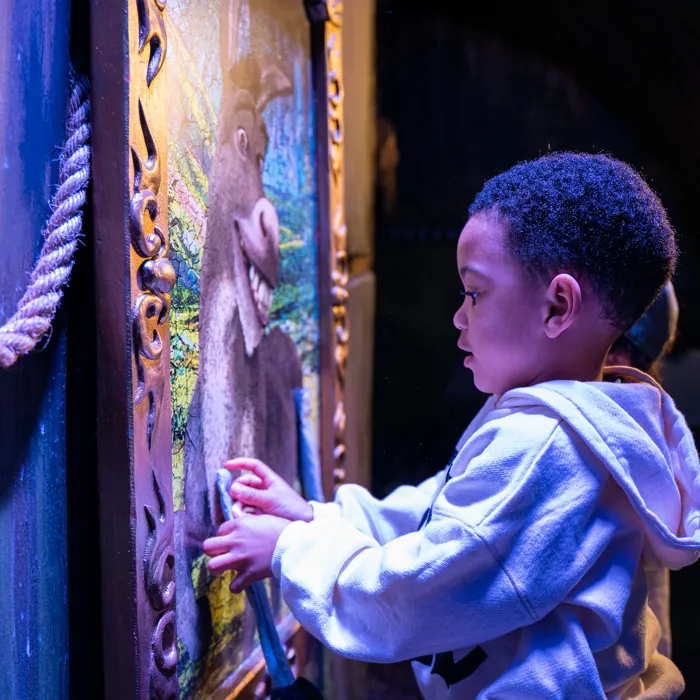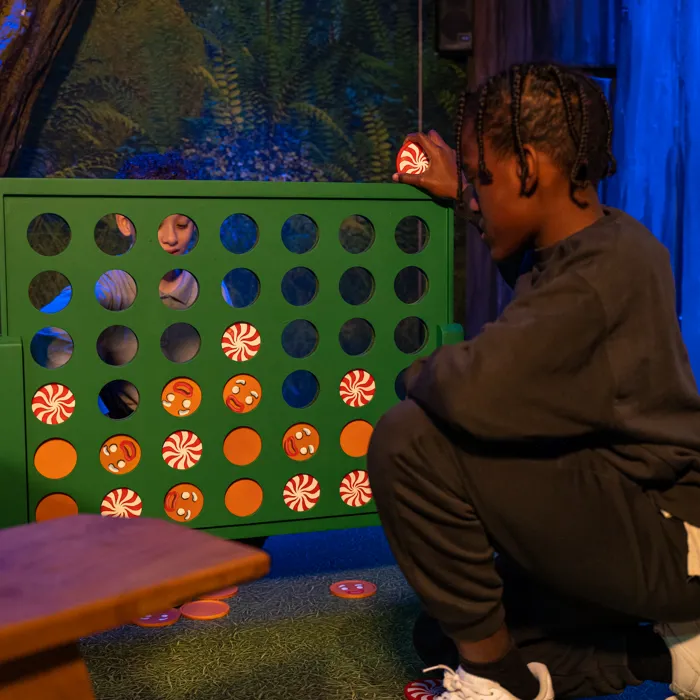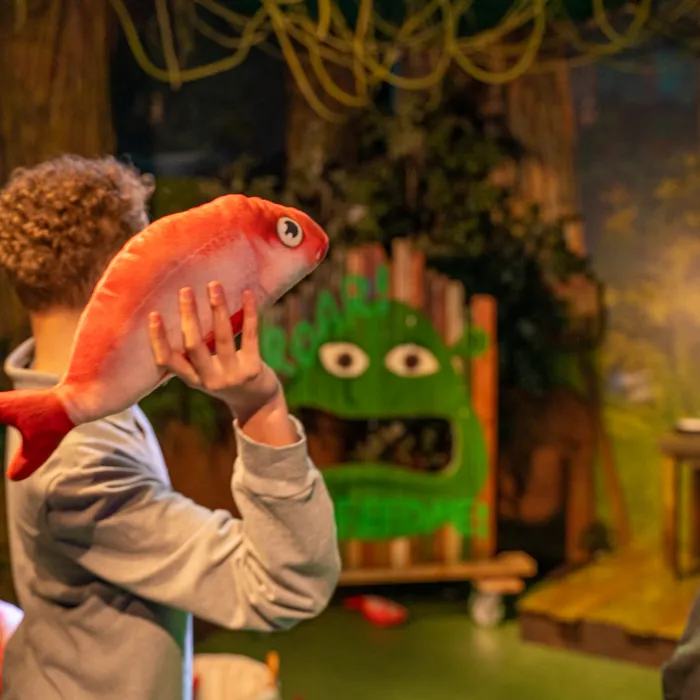 Play some Shrek-tacular themed games!
Our dedicated party hosts will take you through some fun Shrek-themed party games including (but not limited to!) pin the tail on Donkey, connect 4 Gingys and feed hungry Shrek. There'll also be ample karaoke and dancing opportunities as well as fun mini games. Endless fun which will be tailored to all ages!
This package is for 10-30 guests. Ideal for kids age 4 - 10.
Please note that depending on your group size tours may not be exclusive. Whilst our famous DreamWorks characters will endeavour to engage with every birthday boy and girl this many not always be possible given the nature of the tour.
For any enquires, please email us at Partyenquiries@merlinentertainments.biz.
For full terms and conditions please see here. By booking your party at Shrek's Adventure! London, you and your guests are agreeing to comply with these terms and conditions.
Birthday party FAQs
Parties can take place on Saturdays and Sundays at either 10am or 2pm. All parties consists of a tour, followed by games/activities in the party room. The party will finish approximately 3 hours after the start time. We are unable to extend the time of your party beyond 1pm (For 10am bookings) or 5pm (for 2pm bookings) due to the nature of the attraction.
There is a maximum capacity of 28 children per party. 2 free adult tickets are included with each booking with additional adults priced at £15 each. A minimum of 10 children is required to make a booking.
Your party is required to enter the attraction as 1 group. Please arrive 15 mins before your party is due to begin. Your meeting point is inside County Hall next to the Great British Fish shop and the exit to the London Dungeon. A member of the Shrek's Adventure team will come to greet you. All guests must arrive on time as we will not able to accommodate any latecomers.
Of course. Shrek's Adventure! is fully accessible. Please note however, that we are restricted to having two wheelchairs in the attraction at any one time. Please email us at Partyenquiries@merlinentertainments.biz to inform us of any additional needs within the party and we will do our best to accommodate. 
The swamp party room is fully themed, so there is no need to bring decorations. Unfortunately, we are unable to allow piñatas, party poppers, candles or confetti and sparklers into the attraction. Failure to comply with this may result in confiscation.
Unfortunately due to health and safety, food cannot be brought into the attraction. We have organised the optional reservation of a table at Great British Fish and Chips. You will contacted after your booking to confirm this option. Please make them known of any dietary or allergen requirements when you arrive. If you select this option then you are able to bring a cake which will be stored in their fridges and brought out during your meal. Please note, Shrek's Adventure! London are not held responsible for the cake.  
"Thank you for the party on Saturday. Ava-Grace and her friends had a blast. Tash was full of enthusiasm and the whole team totally got the age right games wise etc and worked so hard for them to have fun. I thought all the staff were lovely wishing her a happy birthday etc and safe-guarding re trips to the toilet etc was excellent. Will definitely recommend to my friends."