Everything you need to know about the Shrek films!
Wednesday November 3rd 2021
Film
With 2021 being the 20th anniversary of the very first Shrek film, we thought it was a good opportunity to revisit the history of this ground-breaking franchise!
The Shrek franchise is one of the most iconic animated series of all time and defined the early '00s animated landscape. The mix of engaging characters, compelling story line and expansive world creation helped the series become one of the highest grossing animated series of all time. Its success also allowed DreamWorks to build a platform which created other brilliant films such as How To Train Your Dragon and Kung Fu Panda.
Read on to discover everything you need to know about the Shrek movies!
What is Shrek About?
Shrek is a film series dedicated to the adventures of a big, green ogre called Shrek. Loosely based on the stories written by William Steig in 1990, the film follows Shrek (voiced by Mike Myers) as he is forced on an adventure to save Princess Fiona (Cameron Diaz) from a dragon by the evil Lord Farquaad.
Along the way he meets the endlessly talking Donkey (voiced by Eddie Murphy) who he reluctantly accepts as a friend for the journey. Shrek ends up marrying Fiona and in the subsequent movies, travels back to her home-kingdom of Far Far Away to meet her family where more adventures befall him! The film is full of laugh out loud gags, some just for adults, and daring escapes meaning Shrek is loved by all ages!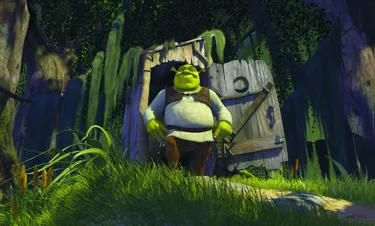 Where does Shrek take Place?
The film takes place in two realms called: Duloc, the Lordship of Lord Farquaad and location of Shrek's Swap, and Far Far Away - the Kingdom ruled by Fiona's parents. These magical lands are filled with different fairy tale characters and enchanted areas like The Poison Apple pub and Sherwood Forest.
However, some Shrek fans believe that Shrek's universe and ours are the same - there are some hint of this such as references to real-world places like Europe or Madrid and cameos from real celebrities such as Simon Cowell and Justin Timberlake. Maybe they just travelled over to Far Far Away for the day on our 4D magic tour bus at Shrek's Adventure! London? No one knows for sure, so we'll leave this for you to decide!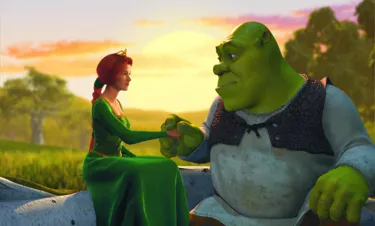 What Themes are Explored in Shrek?
However, Shrek isn't all about just the laughs. Behind the adventures and funny jokes, Shrek explores some deeper themes.
The first one is love. Shrek proves that anyone can find love and it is what inside that counts. He is viewed by others in the film as being ugly and unlovable but eventually the most beautiful princess falls in love with him and luckily, she ends up being an ogre as well!
In the first film, Shrek compares himself to an onion saying he has layers which need peeled to meet different sides of him. Shrek teaches us that although some people have tough exteriors, it may be a defence mechanism and so don't judge them at first sight. 
Both these elements provide an overarching storyline about being true to yourself and finding self-acceptance and inner love despite what others think of you.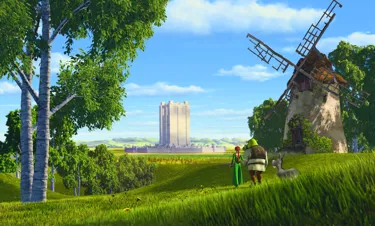 How Could Shrek have Turned out Differently?
The first Shrek film could have turned out very differently, as Shrek was originally voiced by comedian Chris Farley! However, he sadly passed away in 1997 without recording all his lines and so the studio was left with a question of how best to proceed.
And then in walked Mike Myers! His first recording of Shrek was with his natural Canadian accent, but after seeing a draft of the film, he rerecorded all his lines into the Scottish accent of Shrek which we all know and love.
There was also a much-changed concept design for Shrek in the early stages! As you can see below, he would've looked completely different - we know which one we prefer…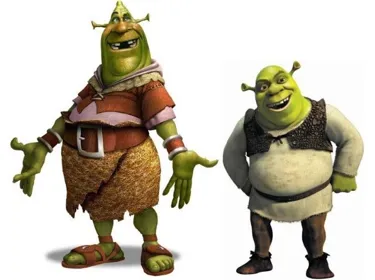 How did DreamWorks make Shrek a Success?
With 5 feature length films (and more on the way), eight short films like the Scared Shrekless Halloween special, a Puss and Boots TV series, an immersive adventure experience and even a Hollywood musical; the legacy and success of the films is  undeniable.
But how did DreamWorks make Shrek the success we know it to be? Well firstly, they created Shrek to be an antihero – a dirty, grumpy and extremely reluctant Ogre who doesn't want to go on any adventures! Compared to characters like Prince Charming from Disney, you can see how Shrek subverts expectation and turns established tropes on their head.
However, DreamWorks still needed to create a character which was lovable, which is where using humour such as suggestions that Lord Farquaad may be "compensating for something" is clever. The series also pioneered using modern day pop songs rather than a traditional score to make the movies relatable and fun. Some of the songs like 'All Star' by Smash Mouth are now synonymous with Shrek and the popularity of the songs endure thanks to the movie!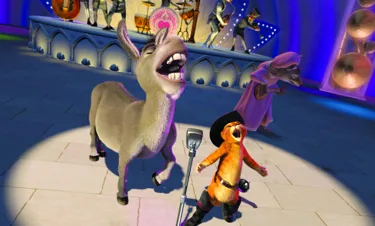 What's Happening with Shrek 5?
Ever since the release of the 4th Shrek movie, Shrek Forever After, in 2010, fans have been crying out for another instalment.
Shrek 5 was actually announced way back in 2016 and set for release in 2019 with the majority of the original cast on board to voice the characters. However, like much of global movie production, the Covid-19 pandemic put a halt onto Shrek 5's progress and there hasn't be an update on a potential release date for some time. There are rumours online such as from Shrek Fandom quoting a September 30th 2022 date but that has not been confirmed by the studio so seems unlikely.
There also haven't been any confirmed plot points yet but Chris Meledandri, the person heading up the revival of Shrek, stated in an interview with Variety that they will be looking to build something which doesn't feel like just "another film in a series of sequels". This point is emphasised by writer Micheal McCullers who when speaking to the Hollywood Reporter revealed a "pretty big reinvention" could be in store for Shrek 5. Exciting times to be a Shrek fan!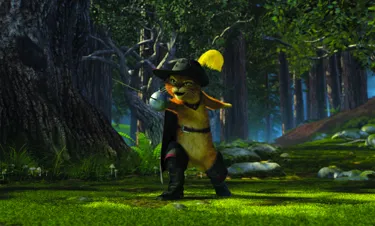 Puss in Boots 2: The Last Wish
Although Shrek 5 is currently unconfirmed, if you're looking for something solid to look forward to, the new Puss in Boots movie 'Puss in Boots: The Last Wish' will be released in the UK in October 2022!
So keep your eyes peeled for further announcements and exciting things taking place at Shrek's Adventure! London this summer.
Now you should know everything you need to know about Shrek and how it changed the face of animation history! If this has left you hankering for all things Shrek, then come down to the Southbank in London and visit Shrek's Adventure! London for an immersive family experience. You'll get to step into and star in your very own hilarious madcap adventure next to Shrek, Donkey and their pals and help save the day.
Thank you for reading, we hope to see you at Shrek's Adventure! London soon.