The Best Rainy Day Activities in London
Introduction: Looking for the best indoor family activities and attractions in London?
They say there's always something to do in London, come rain or shine. So, even when it's tipping buckets outside, your family trip to London doesn't need to be 'rained off' when the weather decides it couldn't shine. The nation's capital has something for everyone inside its sprawling streets, especially when it's raining outside. To prove it, we've created a guide to rainy day activities in London that's sure to offer you and your family a truly unforgettable day out. Don't worry about your wellies and your umbrellas, you won't be needing them where you're going.
The Best Rainy Day Activities in London
A Trip to the Theatre
Watch a Movie
Say 'Hi' to Shrek and the Gang at Shrek's Adventure! London
Barbican Conservatory's 'Indoor' Rainforest
The London Dungeon
Discover the SEA LIFE Centre London Aquarium
The Natural History Museum
The National Science Museum
The British Museum
Spend the Day at Madame Tussauds
The Tate Modern
The National Gallery
A Spot of Afternoon Tea
A Boardgame Cafe
London's Toyshops
Indoor Trampoline
FAQs about indoor activities in London
A Trip to the Theatre
Did you know that London plays host to a wide variety of family-friendly theatre shows? From plays to musicals and pantomimes, there's a whole heap of live productions tailored to your little ones. The Lyceum Theatre in the heart of the West End has been welcoming spectacular performances to its stage for around 200 years. It's currently home to the dazzling and award-winning The Lion King, recommended for children aged six and above. Or why not try the Apollo Victoria, which is currently hosting the acclaimed Wicked; a musical that tells the untold story of the Witches of Oz and how one witch came to be called 'good' and one came to be called 'wicked' – a truly spectacular rainy day activity.
Watch a Movie
When it rains, there's nothing quite like a good movie to take your mind off the weather. Luckily, London is full to the brim with independent cinemas ready to help you and your family do just that. Whether you want to see something new at the BFI IMAX in Southbank, or a classic at Notting Hill's cosy Electric Cinema, it's a great way to pass the time together (and sit in some very comfy armchairs). Either way, grab your popcorn and get ready to be amazed.
Say 'Hi' to Shrek and the Gang at Shrek's Adventure! London
Speaking of movies, how would you like to meet the legendary green ogre himself? At Shrek's Adventure! London, you and your family will get the opportunity to take a ride on a 4D flying magical bus (driven by everyone's favourite, Donkey), explore Shrek's swamp with a little help from Cinderella, cook up a cauldron full of magic spells with the Muffin Man and so much more. Then finally, at the end of your fabulous adventure, you'll get to meet Shrek himself (and maybe run into a few other DreamWorks characters too).
Barbican Conservatory's 'Indoor Rainforest'
We think it's safe to say that the last thing you would imagine doing on a rainy day in London is visiting a rainforest. However, at the Barbican Conservatory, that's exactly what you can do. Located in the heart of the city, the Barbican Conservatory is a stunning oasis of flora and fauna (and some beautiful koi carp too). The second biggest conservatory after Kew Gardens, this indoor rainforest is an ideal, quiet and peaceful shelter from the rain.
The London Dungeon
For something a little more spooky and thrilling for all the family, we recommend a day in The London Dungeon. Tucked away under County Hall on the South Bank, The London Dungeon is a historical journey through London's macabre past. Inside, you'll find a range of live shows, underground thrill rides and some (very) gory special effects. From Guy Fawkes's gunpowder plot and the history of Jack the Ripper to the dreaded Torture Chamber and the extremely eerie Plague doctors, you'll come out screaming (with laughter, we hope).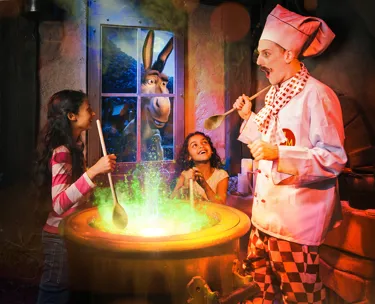 Discover the SEA LIFE Centre London Aquarium
There's nothing quite like learning about the world that exists below our deep blue seas. Perfect for families, schools and adults, the London SEA LIFE Centre (also on the South Bank) is home to around 500 different species of marine life. During your visit, you'll get to feel what it's like to live under the sea in the glass Ocean Tunnel, take an exciting stroll through the truly stunning Coral Kingdom, chat with a penguin and a sea turtle or two, and become a real-life explorer in the Rainforest Adventure zone. Oh, and don't forget to look out for the sharks because they might be swimming just beneath you during your trip.
Visit a Museum
When you're looking for a fun and educational activity on a rainy day, you can do no better than visiting one of the city's many museums. Great for families and adults alike, London's wide variety of museums have attractions for kids of all ages. And the best part is, our following top picks are all free.
The Natural History Museum
World famous for its exhibitions, the Natural History Museum in South Kensington takes you on a voyage through the planet's natural history. Step back in time in the famous Dinosaur Gallery (where you'll see a Triceratops skull and the first skeleton of an Iguanodon known to science!), compare yourself to the animals of the world (including the blue whale suspended from the ceiling) in the Mammals gallery or unearth a variety of gems, minerals and rocks (including some gold nuggets and even some kryptonite) in the Earth's Treasury. It's hard to get bored when there's so much to discover.
The National Science Museum
For all you budding engineers and scientists out there, take a trip to the incredible National Science Museum near Gloucester Road station and discover the fun of science. Experiment and be amazed in the Wonderlab: The Equinor Gallery, where you'll immerse yourselves in puzzles, quizzes and even an IMAX movie in the Ronson Theatre. For a younger, more hands-on approach, visit the Wonderlab+, filled with games and interactive displays that will get them loving science and technology before they can walk. Like many of the museums in London, this is a great learning experience for children and adults.
The British Museum
With a wide variety of guided and interactive tours for children of all ages, the British Museum is the perfect place to learn and have fun at the same time. Based in Bloomsbury, you and the family can discover the rise of the ancient Greek empire, the tombs of the famed Egyptian mummies or take part in one of the Museum Missions, where you'll hunt for a variety of different objects in the gallery, perform for a video and pose for a photo. In one of London's most renowned museums, there's endless fun to be had.
Spend the Day at Madame Tussauds
If you've ever wanted to meet the stars, the classic British day out Madame Tussauds London is perfect for the whole family on a cold and rainy day. Madame Tussauds and her exhibition arrived in the British Isles in 1802, and since then, people from far and wide have come to visit its life-like curiosities for over 200 years. In Madame Tussauds London, you'll get to see the likes of Beyoncé, Taylor Swift, the Queen, Zendaya and a whole set of custom 'Experiences' with dedicated themes (such as Alien and London's Gangsters). There's almost too much to do all in one day.
London's Art Galleries
Whether for a quick hour or so to shelter from a downpour or for a full day working your way around everything there is to see, London's world-famous art galleries are the perfect places to take the family on a stormy day. Unlock your creative potential with some fun activities and take inspiration from some of the greatest artists in history.
The Tate Modern
Perhaps the world's most interactive art gallery: at the Tate Modern, your family can see their drawings come to life using the museum's digital sketch pads (they can even take a drawing class if they like). If you're looking for something more tactile (maybe for the younger children), your family can join a free sculpture workshop and get messy with some clay, or weave together their ideas with some beautiful different textiles; they can be hung, draped, or wrapped up and taken home with you at the end. You can even add your work to the ever-growing collaborative piece and become a part of the art. There's also some of the world's best modern and contemporary art here, just in case you need some inspiration.
The National Gallery
If you want your family to have a real lesson in art and help build up their dexterity and creative skills (as all budding young artists should), the National Gallery is the perfect place to visit. From painting and drawing classes (taught by actual artists at a variety of different levels) to storytelling sessions where you'll sit down and get transported away on a magic carpet ride (perfect for the under-fives), the National Gallery is an experience like no other. It's free to enter, and there are even a number of tours specialised for children.
A Spot of Afternoon Tea
Nothing quite says cosy and comfy like afternoon tea (with lots of cakes). In London, there are several child-friendly tea houses for you and the family to indulge in. Feed the entire family's sweet tooth at the Charlie and the Chocolate Factory Afternoon Tea house or try afternoon tea on-the-go with Brigit's Bakery and their themed Peppa Pig Afternoon Tea Bus Tour, perfect for younger children. Wherever you are in London, you're sure to find a tea house that'll suit all the family.
A Boardgame Cafe
If you think your family needs some time away from the screens, but it's a bit too wet to go outside, why not try a boardgame café? You can grab a bite to eat and discover a brand-new favourite game all at once. Most of the boardgame cafes have an enormous variety of boardgames that cater to all ages (even adults) and a great selection of baked snacks and drinks. They're perfect for a short pitstop (in case of a sudden shower) or you can spend the entire day there playing through different games.
London's Toyshops
Children and toys are truly the perfect match. Luckily, London has some of the oldest and biggest toy stores in the world. With a range of cafes nearby (or inside many of them), the capital city's famous toy emporiums (like Hamley's seven floors of pure joy in Regent Street) are great to forget about a rainy day and enjoy some unforgettable moments with the family. But be careful, if you're going to a toyshop, you'll probably have to buy at least one toy by the end of the day.
Indoor Trampoline
Why not try something a little different, maybe something a little more bouncy? If the kids have got far too much energy today, maybe you should take them to Flip Out London, the city's biggest indoor trampoline and adventure park, located in East Ham. With over 50 trampolines and bounce areas (including foam pits and battle beams), a thirty-foot slide, twelve climbing walls, an indoor caving zone, a laser maze and a ninja warrior course, there is no room for boredom at Flip Out London. There's even a toddler zone for those under five years old.
FAQs about indoor activities in London
What's the best way to get around London when it's raining?
The best way to get around London when it's raining is by public transport (like the bus, the tube or the trains) or by car. With so many things to do in so many different places, it's best not to walk (even if you have an umbrella).
Is Shrek's Adventure! London indoors?
Yes, Shrek's Adventure! London is indoors. It is located at the Riverside Building, County Hall, Westminster Bridge Rd, London SE1 7PB. That's right next to the London Eye, so you can't miss it! A great day out for all the family, especially the little ones.
Is Shrek's Adventure! London for Kids?
Yes, Shrek's Adventure! London is for kids. We recommend children aged six to twelve, but there's no official age limit. During your adventure here, you'll meet many beloved characters (from princesses to donkeys), but you may also encounter a witch or two, which some younger children may find too scary!
Standard ticket
Online from
£24
Per adult
Entry at your chosen 15-minute time slot
70-minute interactive walk-through experience, including a magical 4D flying bus experience
Reschedule for free if your plans change*

Book early & save!

Skip the Gate Pricing: Tickets purchased online are consistently cheaper than walk-up rates, so you can enjoy more for less.

Guaranteed admission on your chosen date
Reschedule for free
Instant e-ticket (show the ticket on your Mobile device or as a printout)

| | | | |
| --- | --- | --- | --- |
| Ticket Type | Off-peak Weekdays | Peak  | Walk-up |
| Adult | From £24 | From £30 | £32 |

Please note ticket prices vary depending on available capacity and prices may fluctuate during periods of high demand.
Shrek's Adventure + 1 attraction
Online from
£50
Per adult
Save up to
£17
when booked together
Entry to Shrek's Adventure! London plus another attraction
Choose from the London Eye, Madame Tussauds London, SEA LIFE London Aquarium, London Dungeon, River Cruise and Big Bus Tour
Ticket valid for 90 days from the date you visit Shrek's Adventure
Reschedule for free if your plans change*
Please note the London Eye is closed for maintenance from January 8th to February 4th, 2024