Free Entry for those with royal names from Far Far Away to mark National Princess Day
Thursday November 16th 2023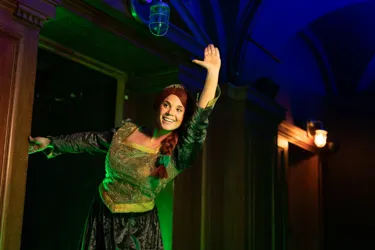 Calling all fairytale creatures, as something royally exciting is happening at Shrek's Adventure! London. In celebration of National Princess Day, we are inviting anyone with the name Fiona or Arthur, after the beloved characters Princess Fiona and Prince Arthur, for a shrek-tacular day of adventure... for FREE!
For one day only, on Saturday 18th November, guests with the same name as Shrek's iconic rebellious Princess Fiona or her long lost cousin Prince Arthur are invited to enjoy a day out in Far Far Away without paying a single magic bean.
Shrek's Adventure! London is a must-do family attraction where kids and their parents play their own part in a live-action adventure in Far Far Away, helping Shrek and his friends defeat the evil Rumpelstiltskin.
TERMS AND CONDITIONS
Customers who have the name Fiona or Arthur will be allowed to enter the attraction free of charge if they can show proof of identification to the Shrek's Adventure! London team.  
Offer must be redeemed in attraction with valid ID. The spelling of the name must be exact and is subject to availability. Offer valid all-day on 18th November 2023 only. Name must be Fiona or Arthur and no alternative abbreviations of the names will be accepted.  
Must bring along a form of ID for proof of name. Form of ID can include Passport, Birth Certificate or Photo ID card 
Name must be an exact match to the following: Fiona or Arthur
You will be given free entry into Shrek's Adventure! London for the next available timeslot of the day 
Free entry only valid for 18th November 2023 during attraction opening hours