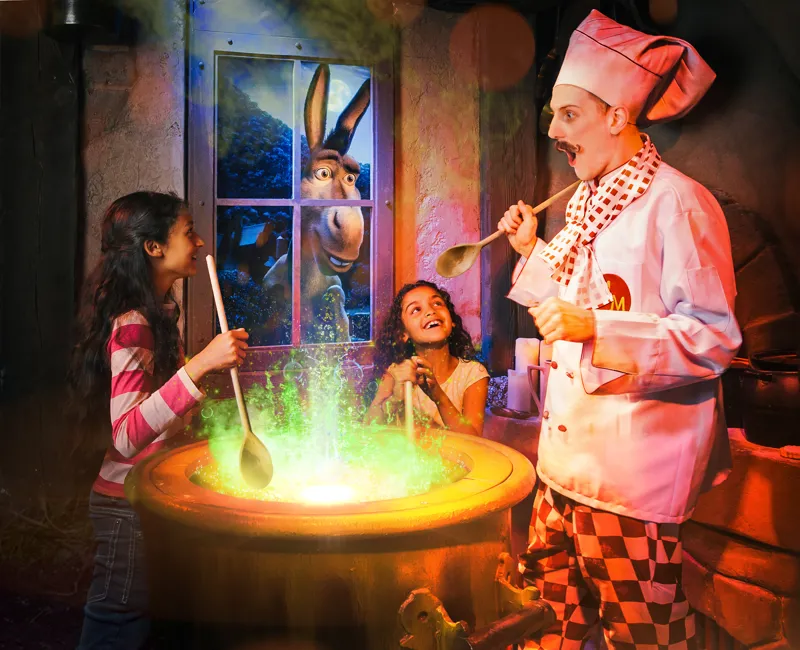 Information for visitors with hidden disabilities
Our team is trained to recognise the hidden disabilities sunflower lanyard. We offer these lanyards and ear defenders should you or your guests need them. Please speak to a member of staff at any point during your visit, should you require any assistance.
Guests with hearing and visual impairments 
Shrek's Adventure is mainly delivered by actors, voice over audio and projected images. Guests with low vision or have a visual impairment or have hearing difficulties may struggle to experience the attraction fully; however you are able to bring a carer free of charge to assist
Guests with spine, neck and back injuries
Although there are moments you can sit throughout the tour the majority of the time you will be standing and walking over uneven flooring. There are also sections of the tour that may not be suitable for you or may even create a risk of aggravating the injury. These areas can include chair movements in some shows. Please speak to a member of the team about the specific nature of your medical issue and we can ensure that we bypass areas which may not be suitable for you.
Guests with heart problems and pace makers
If you have a pacemaker or have a heart condition please make yourself known to a member of the team to discuss the areas of the tour which may not be suitable for you.
Guests with autism and other neuro-diverse conditions
We are a highly sensory experience with many different sights, sounds and smells
Some characters may be scary for certain people, including the witches (who you will see in animation) and costume characters like Shrek, and any seasonal visitors.
At any point, during the tour, feel free to let a member of staff know if you or a member of your party needs to leave or take some time out
Guests with photosensitive epilepsy
There are shows and areas of Shrek's Adventure that contain strobe lighting which may affect those suffering from photosensitive epilepsy. We recommend speaking to a member of the team before you enter and begin your tour so we can fully brief you on locations strobe lighting is used.